Design Trends and Inspiration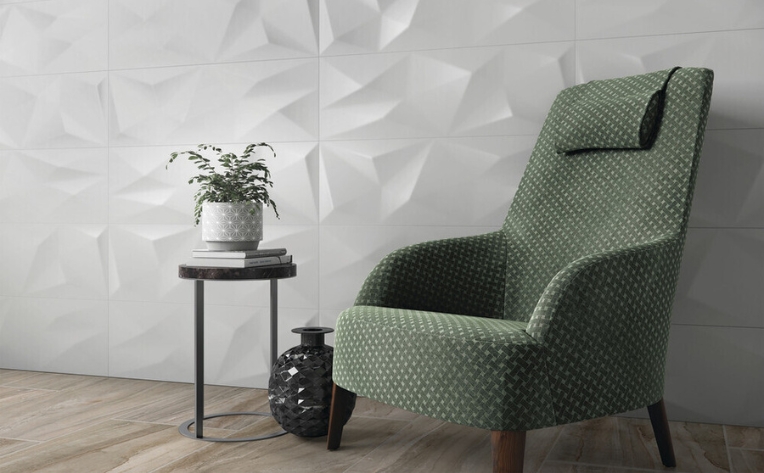 Nov 18, 2019
Countless experts have warned us about the health risks of sleep deprivation, yet many people struggle to get a good night's sleep every evening. If you're one of them, there's good news and bad news. The bad news is that lack of sleep can slow reflexes, dull concentration, and increase the risk of various health problems. The good news is that there are plenty of simple ways to create a more sleep-friendly bedroom (or, for that matter, any space where you like to snooze). Keep reading for five easy tips on how to make your bedroom better for sleeping — then settle in with your coziest pajamas for a restful, refreshing night of shut-eye.
How to Make a Bedroom Environment Sleep-Friendly
Design Tip #1: Your Mattress Matters
A quality night of sleep literally starts and ends with your mattress. It's important to make sure you choose the right fit! Regardless of whether you prefer a firm mattress, a soft mattress, or something in between, most experts recommend replacing your mattress approximately once every eight to 10 years. However, certain types of mattresses may require less frequent replacement. For instance, memory foam typically has a lifespan of up to 15 years with proper maintenance. If you notice your bed sagging in the center, tilting to one side, poking you, or otherwise causing discomfort, it's time for a new mattress!
Design Tip #2: Lower the Lights
Light is one of the most important factors to consider when you're trying to set the right bedroom environment for good sleep. Some people prefer a dim room, while others need pitch blackness; but no one can sleep properly if their sleep cycles are interrupted by artificial light. Try to avoid bright light sources at night, this includes your phone screen, and choose curtains or blinds that allow sunlight to enter in the morning. Sunlight is your body's natural cue that it's time to wake up and start the day.

Design Tip #3: Use Calming Colors
It's no secret that different colors evoke different emotions. For example, most people think of red as a passionate, bold, intense color; not exactly conducive to sleep. Whether you're painting or using wallpaper, be mindful of the colors you choose for your bedroom. Cool colors and pastels, such as baby pink, mint green, or turquoise, help set a relaxing, soothing tone; plus, they're easy to color-coordinate with furniture and other design elements.

Design Tip #4: Keep it Clean
Hidden "dust bunnies" are packed with allergens that, for some people, trigger symptoms like sniffling and congestion. Needless to say, it's hard to sleep properly when you feel like you've got a cold! Give your bedroom a thorough vacuuming in all those hard-to-reach nooks and crannies, including the closet and under the bed, at least once per week to help keep your space allergen-free. Other trouble spots where dust bunnies like to congregate include along walls, in corners, and underneath radiators.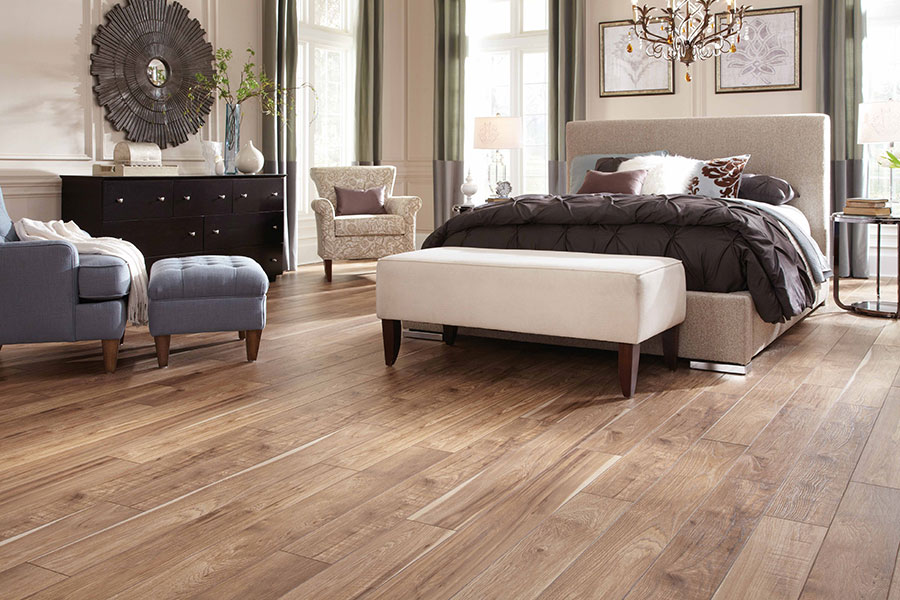 Design Tip #5: Adjust the Air
Since we can't see it or feel it, we often forget the air around us and it's one of the most important factors for getting a good night of sleep. Adjusting its temperature, or even the way it smells can make a world of difference.
For optimal sleep, remember the two A's: air conditioning and aromatherapy! Experts recommend a temperature of around 68 degrees Fahrenheit for ideal sleep conditions, which can be enhanced even further with soothing aromatherapy scents like lilac, vanilla, and lavender. (Just be wary of invigorating scents that will perk you up instead of putting you to sleep, like citrus or peppermint.)
Get Bedroom Decor and Style Ideas with My Design Finder
Want more ideas on how to make your bedroom a retreat? Explore My Design Finder, which lets you compare thousands of gorgeous visual examples, including bedrooms of all types of styles. Then contact the expert team at Flooring America, or simply visit one of our convenient retail locations, to learn how we can bring it to life! From hardwood and tile to carpet and stone, we carry thousands of premium products for every room in the home.
Continue Reading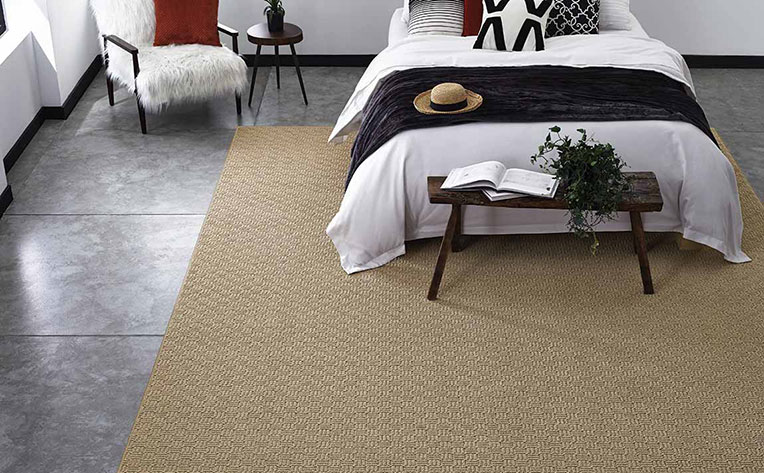 Nov 04, 2019
Black and white is a classic and versatile color combo that can be incorporated into any home. No matter what your sense of style, there's a black and white design scheme perfect for you. Keep reading to get some of our favorite tips and ideas for black and white home decor. Then, ask the experts at Flooring America how we can help bring your style vision to life.
Black and White Interior Design Ideas and Inspiration
Use Bold Black & White Patterns
Some color combinations are soft and mellow, but black and white isn't one of them. Thanks to the high visual contrast, black and white is an inherently dramatic pairing. That makes black and white the perfect colors for using in bold patterns, whether it's striped walls, graphic wallpaper, or decorative black and white plates on the wall. Minimalist or abstract black and white art is another way to heighten the visual drama with stark, eye-pleasing contrast.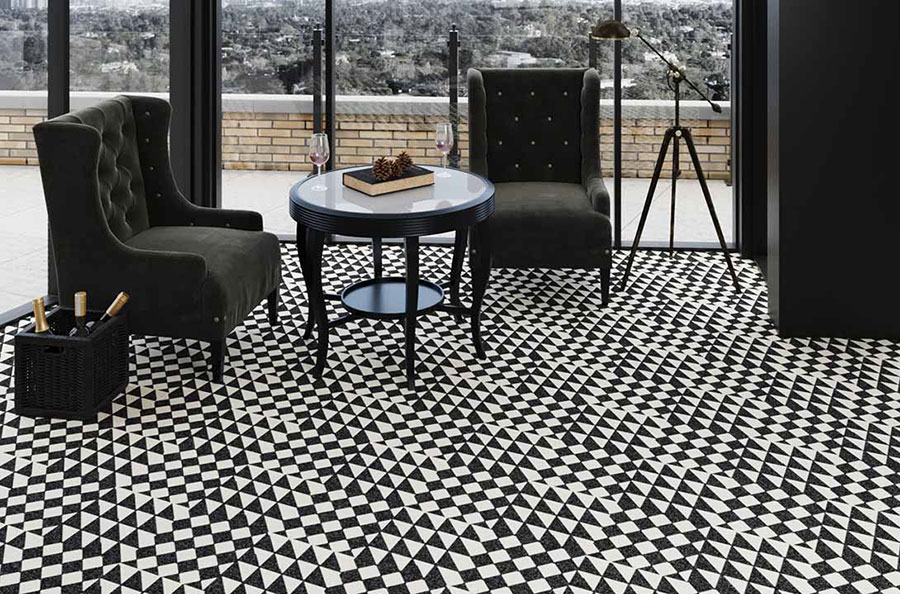 Incorporate High-End Tile
Glazed black tiles are a beautiful addition to your kitchen, whether on the walls or in your flooring design. Striking yet sophisticated, glossy black tile transforms your kitchen into a chic, high-end cafe. (Can you say "espresso bar," anyone?)
A similar option is black-and-white tiled flooring in a checkerboard style. Though often associated with kitchens and bathrooms, checkerboard tile can also be used in foyers, hallways, and living rooms.
Tile floors are great for your kitchen, basement, or bathroom — but when it comes to decorating your bedroom, we'd probably recommend something a little plusher under your feet (especially if you live in a cooler climate).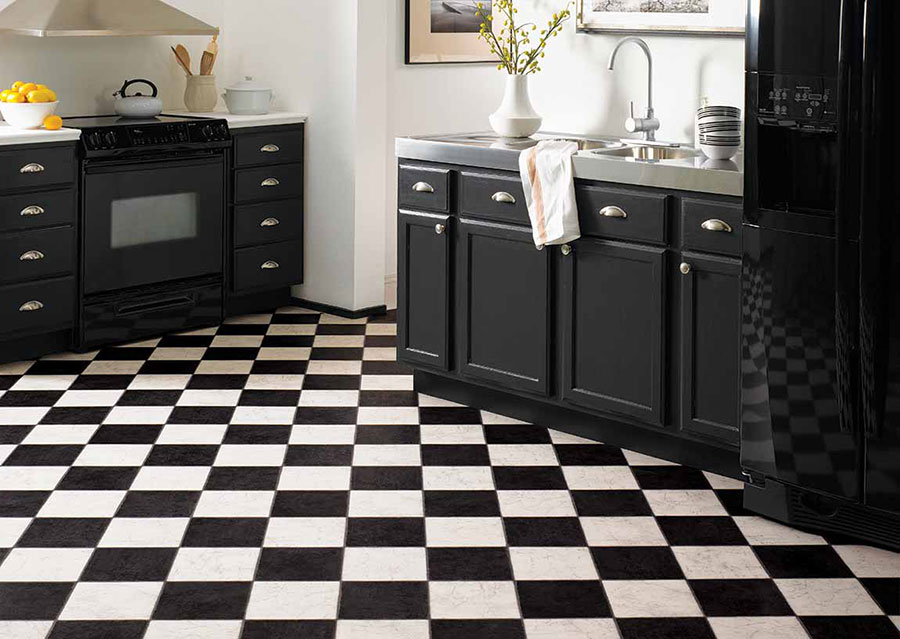 Try Black and White Carpeting
When we think about black home interiors, we usually picture something glossy and sleek, like a shiny tin ceiling (or those glazed tiles we were just talking about). But not everything has to be polished or mod.
Black and white can also be cozy, especially when incorporated into carpeting. From blocky geometric squares to curly fleur-de-lis designs, there are countless patterns and textures to choose from, bringing warmth and comfort into your space while building on your black and white motif.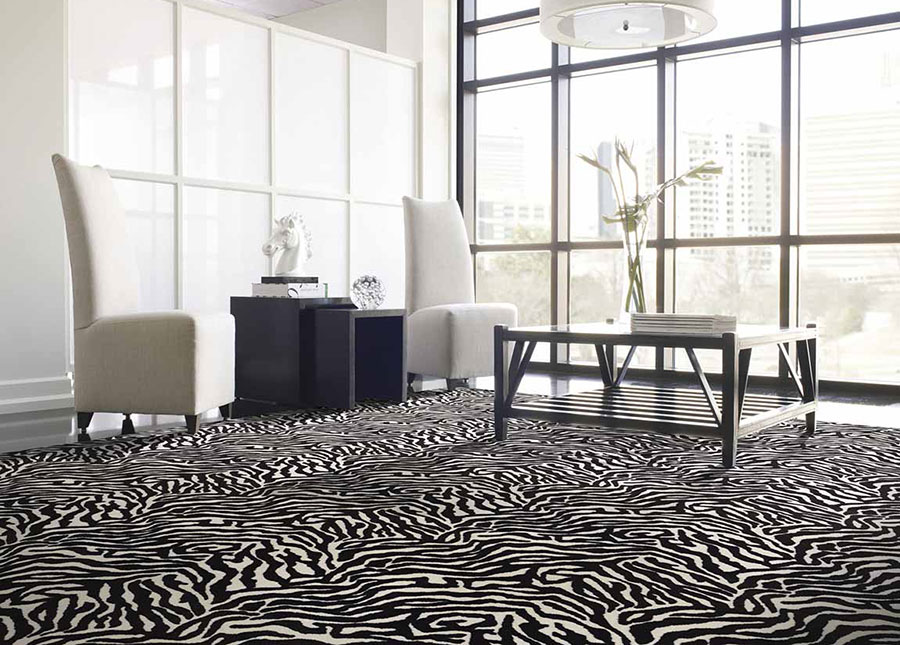 Get Black and White House Interior Design Ideas with My Design Finder
Need more inspiration for black and white house decor? My Design Finder can help. Fun, fast, and free to use, My Design Finder shows you personalized style and decor recommendations, putting a beautiful visual library with thousands of ideas conveniently at your fingertips.
With friendly service and quality products, we can help you recreate the looks on My Design Finder in any space. At Flooring America, we carry a huge assortment of budget, luxury, and eco-friendly flooring styles, including black and white carpets, tile, and luxury vinyl. We'll even handle the installation for you, making setup (and cleanup) a breeze. Ready to get started? Contact us online, or call (866) 695-6411 today.
Continue Reading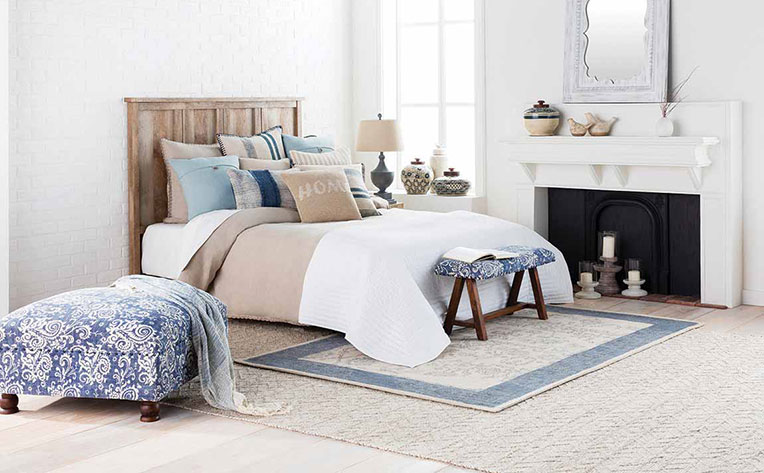 Oct 28, 2019
If you love the look of patterns in interior design, then you're in luck. Patterns are easy to mix and incorporate into every room of your house or apartment, bringing a dash of visual interest and excitement to any space. In this article, our design experts talk about some of our favorite ways to use and mix patterns at home. If you have questions you need answered about interior design patterns and textures, you're in the right place!
How to Mix & Incorporate Patterns in a Room
Make an Inspiration Board for Favorite Patterns
Before you dive headfirst into your home makeover, take a few days (or at least a few hours) to find sources of design inspiration. My Design Finder is a great starting point, with thousands of visual examples to browse. Pinterest and Instagram are also great style sources. Check out relevant hashtags, like #interiordesign, #homedecor, #pattern, or #patterndesign. Once you've compiled some favorites, you'll probably start to notice themes, which you can then incorporate into your home redesign project.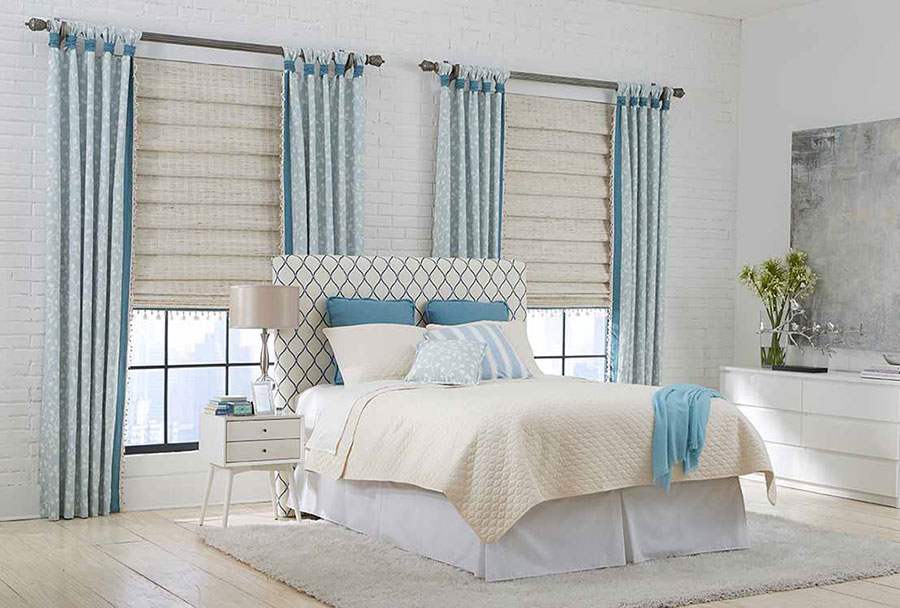 Pick 3 of Your Favorite Patterns to Balance
Many design experts recommend starting with about three different patterns to mix and match in your home. Here's how to make sure they're balanced:
To start, choose a pattern that features a large print. Look for something at least the size of your palm (or bigger).

For your second pattern, choose a print that's smaller than the first. You can pick any size you like, but experts recommend selecting a print that's roughly half as large as the original pattern.

The third pattern can be any size you want, as long as it's visually similar to one of your other two patterns. This will help to avoid too much clashing.
Examples of trendy and popular types of pattern in interior design include fleur-de-lis, gingham, damask, houndstooth, herringbone, polka dots, stripes, and tropical prints.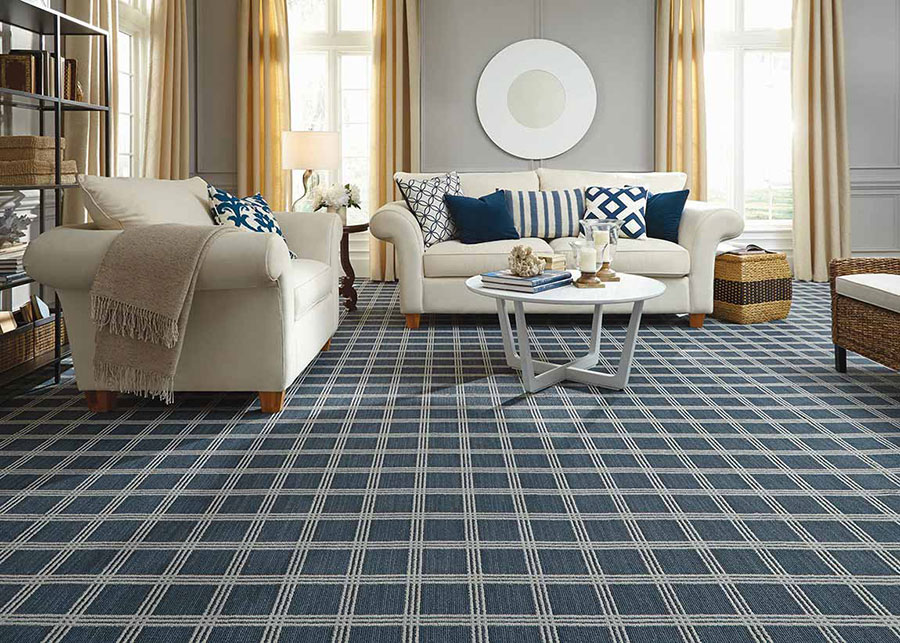 Pick Patterns with Similar Color Intensities
"Color intensity" is simply another way of saying "saturation" or how intense and vivid the color is. The less saturated a color is, the closer it appears to grey. The more saturated a color is, it will become brighter and more vivid.
High-intensity colors can overpower and drown out low-intensity colors. For that reason, it's a good idea to choose patterns with similar saturation levels like three pastels, three dark colors, or three bright colors. Even if you're mixing patterns, as long as there is a similar intensity of color among those patterns, you can mix stripes, polka dots, and florals to a striking and eclectic effect!
Once you've chosen some patterns you like, it's time to start incorporating them into your space! There are countless opportunities to mix and match your favorite prints, including wallpaper, upholstery, carpeting, pillowcases, artwork, tapestries, and more.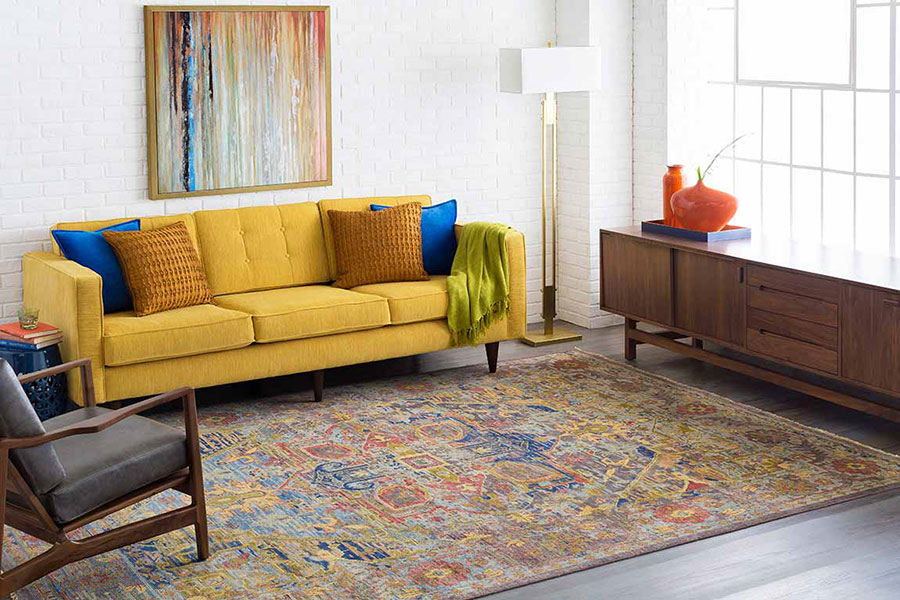 Use My Design Finder to Get Ideas for Decorating with Patterns
The perfect pattern for your home is just waiting to be discovered. Get inspired with My Design Finder, which showcases thousands of gorgeous rooms and homes — all based on your custom style preferences. Whether you're looking for something bold, subtle, kid-friendly, or sophisticated, you'll find your style match on My Design Finder.
Looking for a great carpet to tie it all together? At Flooring America, we carry thousands of area rugs and wall-to-wall carpets, including waterproof and stain-resistant options. Looking for eco-friendly carpeting? We've got you covered there, too. From helping you choose the right carpet to installing it in your home or apartment, Flooring America is your one-stop-shop for quality home flooring. Contact us online to get started, or call today at (866) 695-6411.
Continue Reading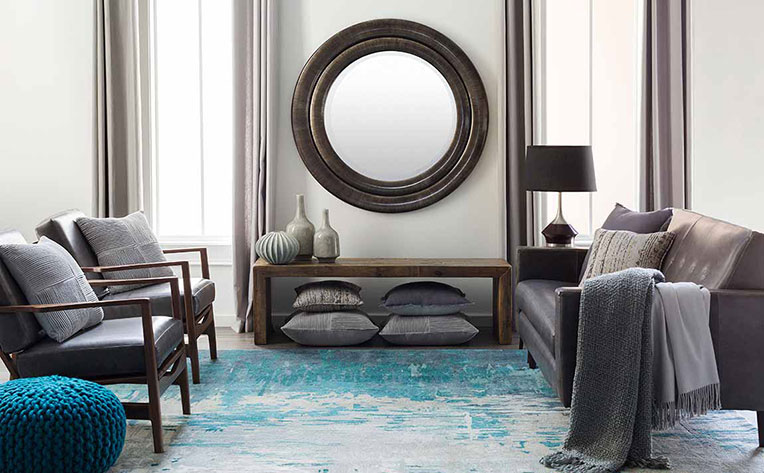 Oct 21, 2019
Year after year, blue is one of the most popular colors among homeowners for a good reason. Blue is reminiscent of tropical oceans and fresh summer skies. Blue is dreamy, cooling, and soothing, and is perfect for setting a tranquil tone in your living room.
Blue and its myriad of shades can lend itself to a variety of design schemes and styles. Whether you enjoy upscale in shades of royal blue, rustic country styling in shades of true blue or in a coastal style in nautical navy blue, any shade of blue can create the desired effect in your living room.
Although blue has powerful style potential, there are still some "do's" and "don'ts" for homeowners to consider. To help you navigate the design challenges successfully and get the most mileage out of your home makeover, we've put together a few of our favorite blue living room ideas, plus answers to some of your most frequently asked questions.

Blue Living Room Decorating Ideas & Inspiration
Is Blue a Good Color for a Living Room?
As long as you enjoy the color blue, the answer to this question is a definite "Yes!" From chic and modern to homey and rustic — Art Deco to Victorian and beyond — there are countless ways to adapt the color blue into any design scheme.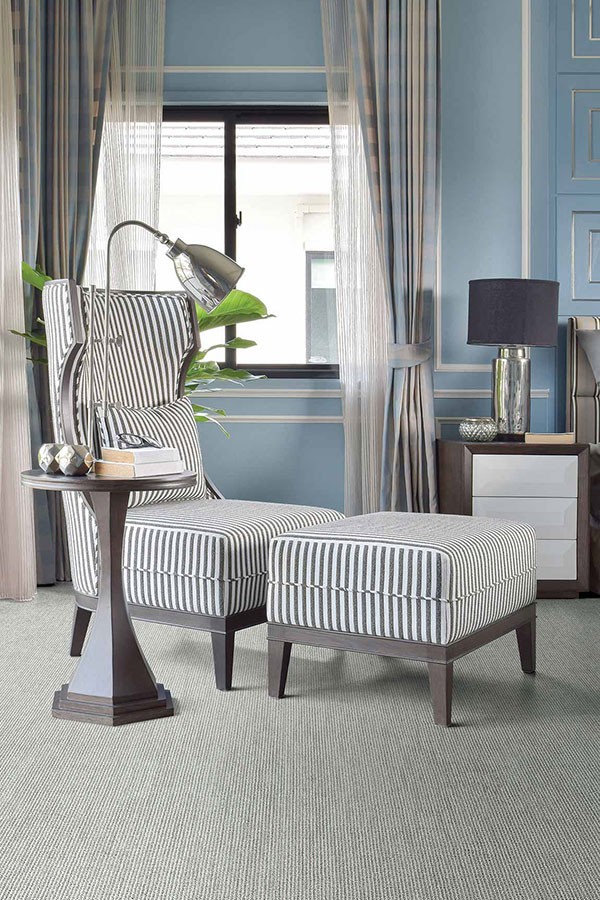 What is a Good Accent Color for Blue?
Too much blue can start to feel flat or repetitive. So how do you avoid having "too much"? Simply remember to balance with accent colors. Yellow, orange, and brown are warm counterpoints, adding a pop of contrast while complementing the blue color scheme.
3 Blue Living Room Decorating Ideas
If you're thinking of taking the plunge into a blue living room, here are some decor tips and ideas to help you create an atmosphere you'll love coming home to day after day. Ready to dive in? Here are three blue living room themes to help you get started and serve as a springboard for inspiration.
Keep it Clean
Restrained and stately, blue is a color that lends itself well to clean, modern decorating styles. For a contemporary feel, use high contrast (such as bright art on dark blue walls), bold patterns, and tidy, geometrical lines.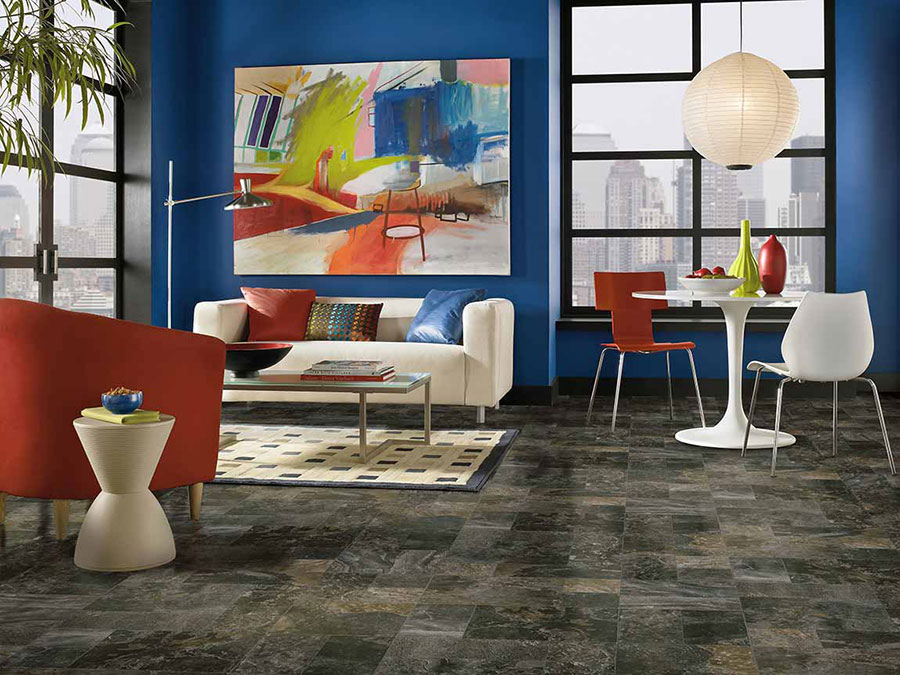 Go Glossy
Dark shades of blue are intense and dramatic. Heighten the effect with glossy paint, which reflects light to create a brilliant shimmer. A glossy finish can help to make the room feel more dynamic or "alive" than a matte finish.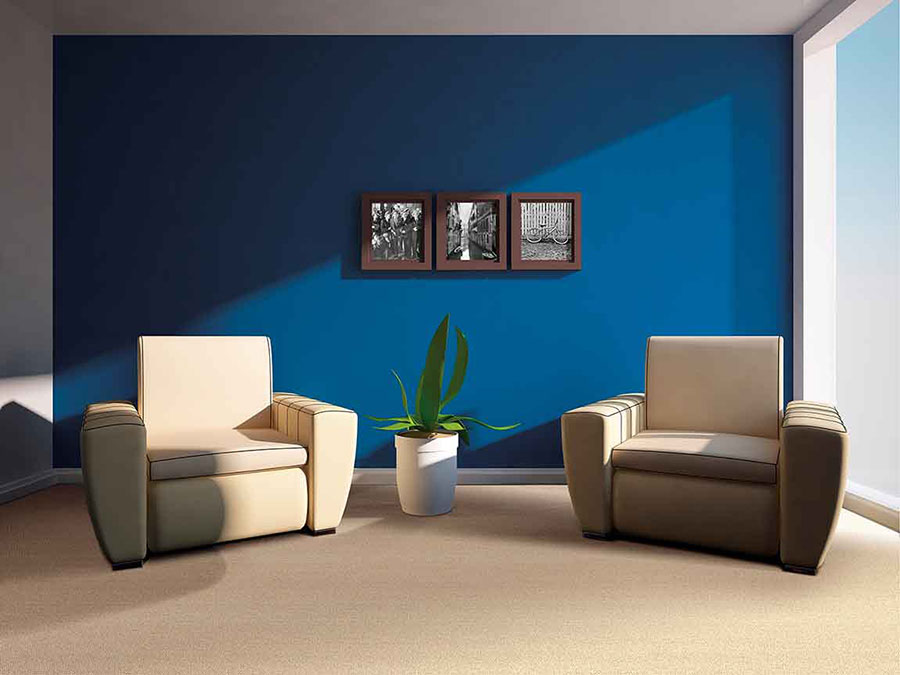 Take a Trip to the Beach
From nautical navy to tropical turquoise, blue is a natural fit for coastal, beach-themed decor. Give the whole room a beachy feel by incorporating shells and driftwood, or using down-to-earth materials like rattan, wicker, linen, rope, and jute in your decor and furniture.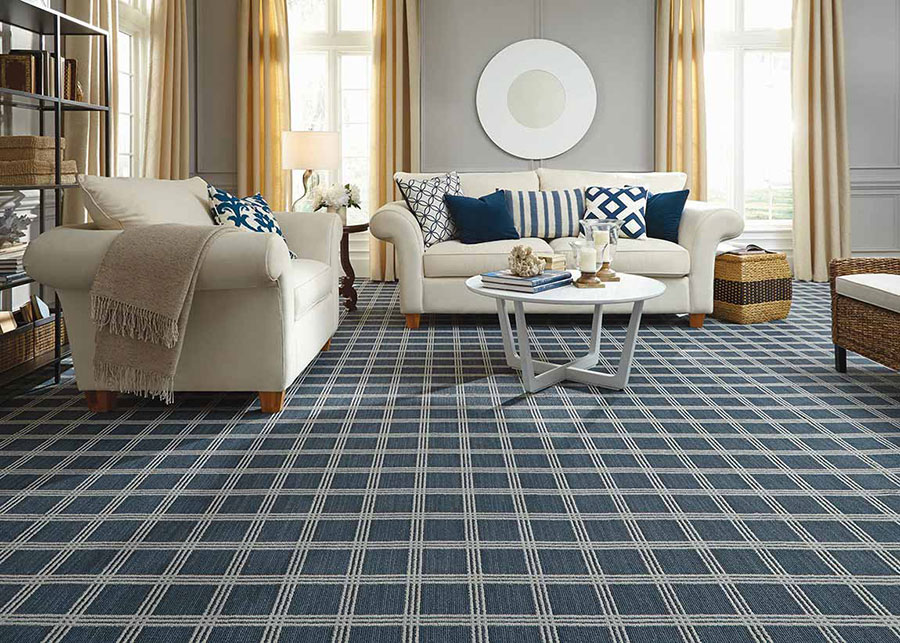 Get Dark and Light Blue Living Room Ideas from My Design Finder
Want more ideas for using the color blue in your home? Check out My Design Finder to get inspired with blue living room color schemes. Just answer a few easy questions about your taste in style and decor, and My Design Finder will show you thousands of gorgeous, personalized examples.
Whether you already know what you're looking for, or you'd rather browse My Design Finder for ideas, the flooring experts at Flooring America can help you improve any room in your home. From hardwood to carpet, to tile and luxury vinyl, we carry and install superior home flooring products. Contact us online to learn more, or call today at (866) 695-6411 to get started.
Continue Reading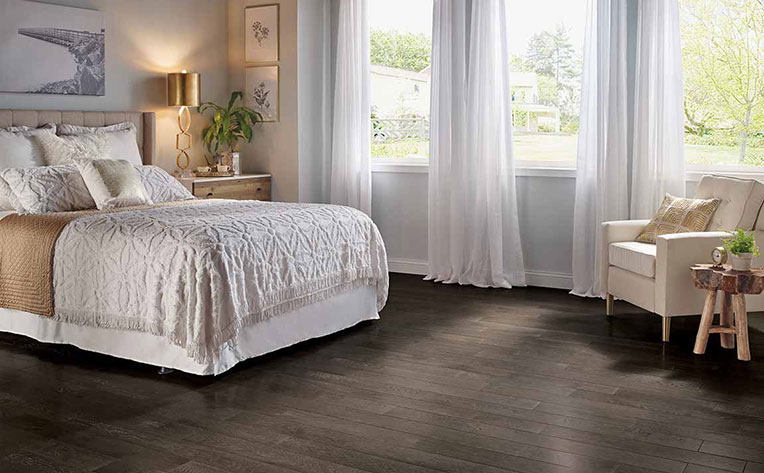 Oct 14, 2019
Anytime is the right time for a style upgrade! Installing curtains or drapes in your windows is one of the fastest, easiest, and most affordable ways to radically transform the space. Not only do curtains provide privacy, they can also offer a pop of color and add interest to the room thanks to rich or airy fabrics and beautiful, well-chosen styling.
But how do you choose the right kind of curtains for different rooms in your home? This article will teach you everything you need to know about how to choose the right curtains, including tips on how to pick curtain color, how to choose the right size curtains, and how to match curtains and rugs.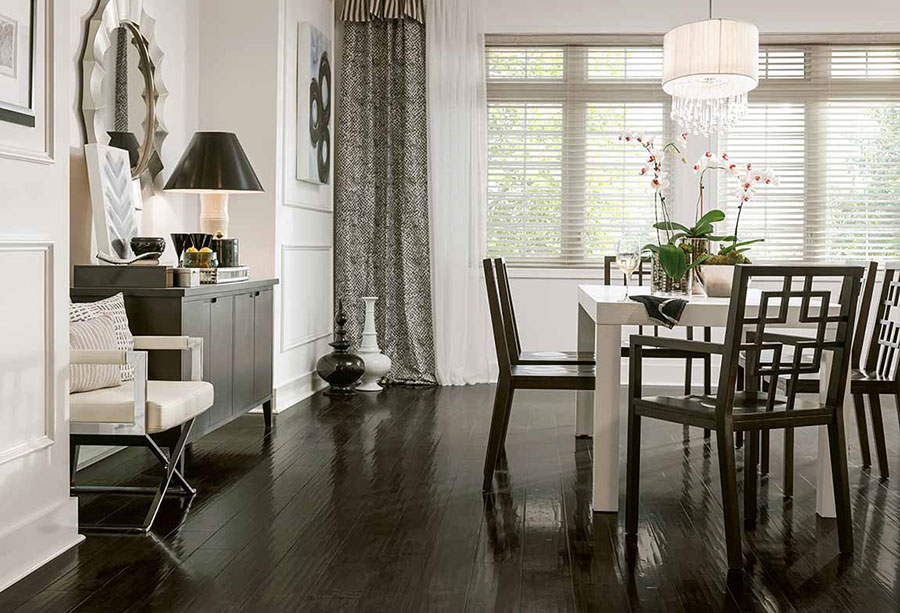 Do Your Curtains Need to Match Your Rug or Sofa?
"Do curtains and rugs have to match?" That's probably one of our most frequently asked questions; so if you've been wondering, you aren't alone!
You don't need to stress over matching your curtains exactly to your walls, sofa, or carpet. In fact, using a different color can actually add visual interest to the room, breaking up the walls so that the curtains don't "disappear."
That being said, it's a good idea to choose curtains that match your other accent colors — for instance, yellow curtains to go with yellow pillows or artwork. You should also avoid colors that clash too strongly (like green and red).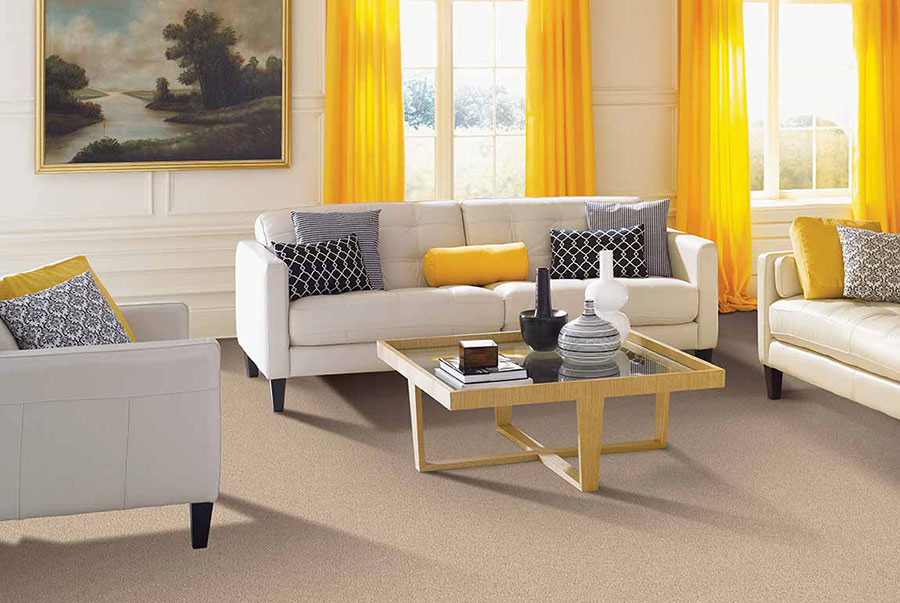 How to Pick the Right Color Curtains
So, if you don't need to match your curtains to your sofa or walls, what color should you choose? In general, it's a good idea to build rooms around one neutral color, a handful of base colors, and one or two accents for contrast. As long as you pick a hue you like and stay within your chosen color palette, you'll have the "right" color. Just keep in mind that some fabrics are sheerer than others, which can cause them to look lighter or more transparent than they do in the packaging.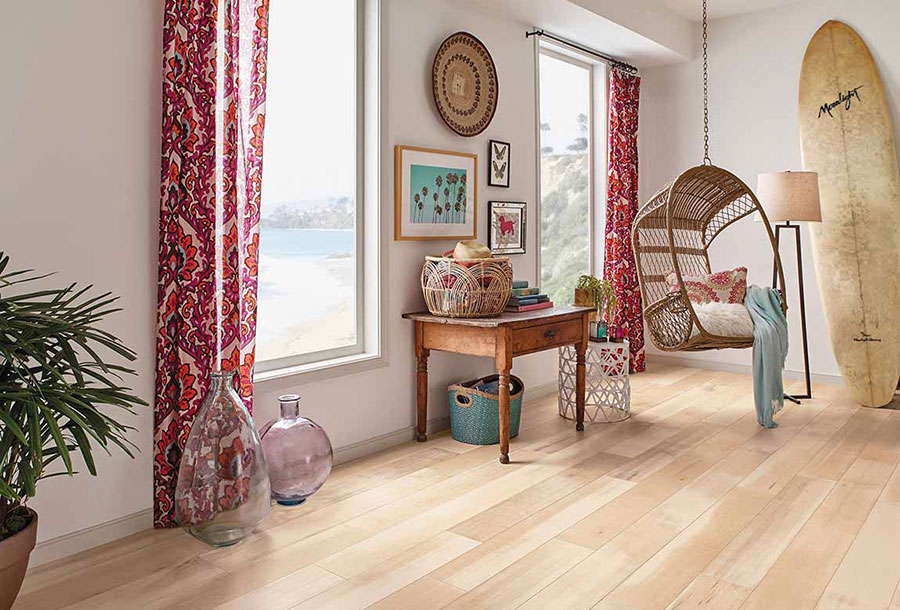 Choosing the Right Size Curtain Length
Now that you have some ideas about how to choose the right curtain color, it's time for Step Two: learning how to pick the right size curtains. For this step, you'll need a tape measure (and possibly a step-stool).
There are two dimensions you need to measure for curtains: height and width. To get the correct height measurement, measure the distance from the floor to the curtain rod. Keep in mind that hanging equipment can eat up a few inches, so double-check your dimensions before making any purchases.
Also, think about how long you want the curtains to be. Are you picturing something short and cute, like a gauzy half-curtain, or draped and elegant, like a stage curtain? Depending on the look you want, you don't necessarily need to use every inch of space you have available.
Once you've got the length, you'll need to measure the width. If you want a folded, flowy look, you'll want to choose curtains that are about three times wider than your actual measurement. If you want curtains that look trim and neatly fitted, you'll only need about two extra inches of width.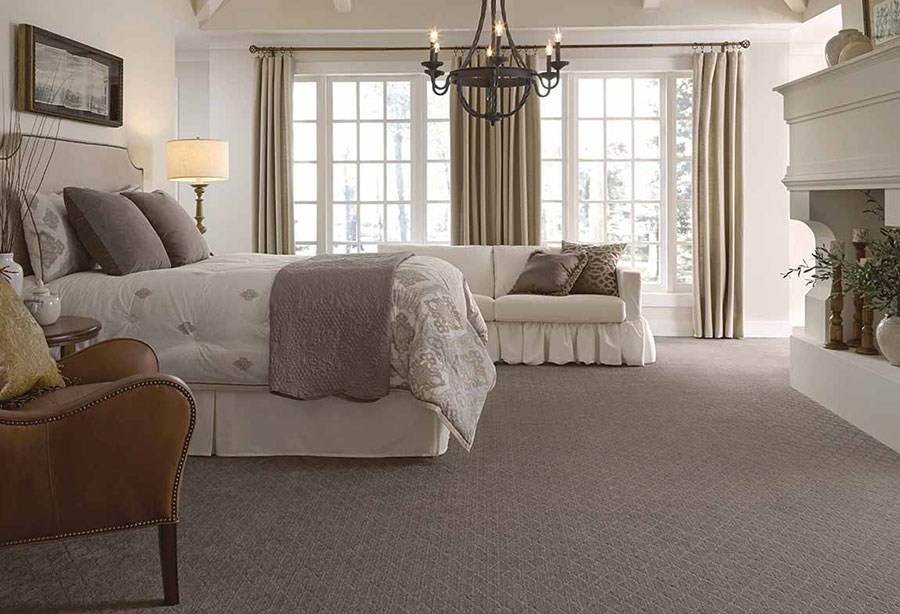 Get Curtain Color Matching Ideas from My Design Finder
We hope this guide has helped you learn how to find the right curtains. To see visual examples, check out My Design Finder, which has thousands of decor ideas personalized to match your tastes.
Looking for the perfect carpet to go with your new curtains? Visit Flooring America to see our products in person. We offer thousands of wall-to-wall carpets and area rugs, available in every type of texture, pattern, color, and material. Contact us online to learn more, or call today at (866) 695-6411.
Continue Reading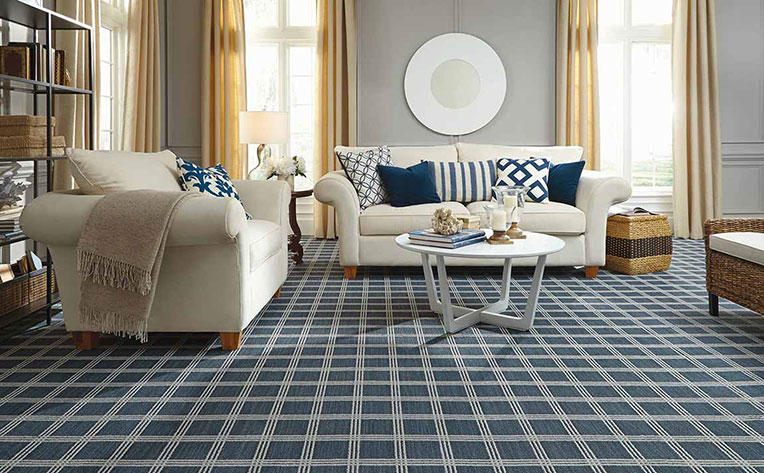 Oct 07, 2019
Have you ever wondered why bright, vivid colors make us feel more awake and alert? Or why pastel tones have such a calming effect? Color isn't just an aesthetic choice; it also has a powerful impact on your mood and energy level. That's why it's so important to choose the right color scheme for your home, using colors that not only look great but feel great.
If your home's current paint scheme is starting to feel a bit "blah," maybe it's time to turn a new design leaf. To help spark your imagination, we've put together a list of some of the hottest and most popular paint colors for 2019.
Trending Interior Paint Colors
What Paint Colors Are Trending in 2019?
You might think of color as something that's timeless, but, like styles of clothing or furniture, paint color trends come and go. So what are some trending wall colors right now? The design experts weigh in.
"Night Watch" Green
No, it's not a Game of Thrones reference. "Night Watch" green is PPG's official color of 2019, making dark green this year's dominant paint trend. Since this hue is so deep and intense, small amounts (like pillows or accent walls) can go a long way.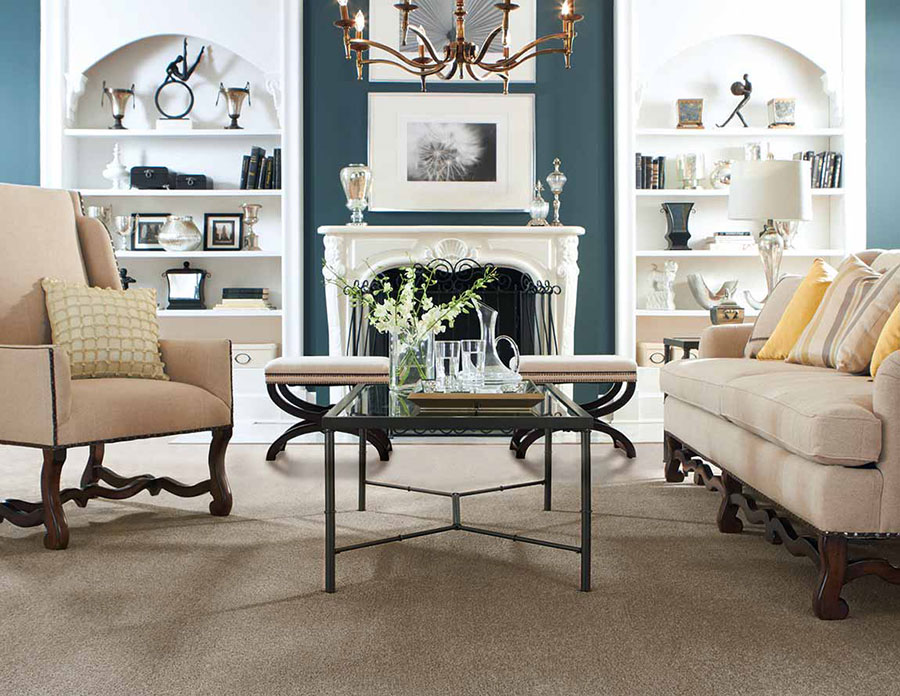 Mustard Tones
Mustard combines elements of gold, brown, yellow, orange, red, and even grey. The result, a rich and earthy atmosphere is as much invigorating as is soothing. Simultaneously eye-catching and understated, mustard tones are a stately addition to any room in the home.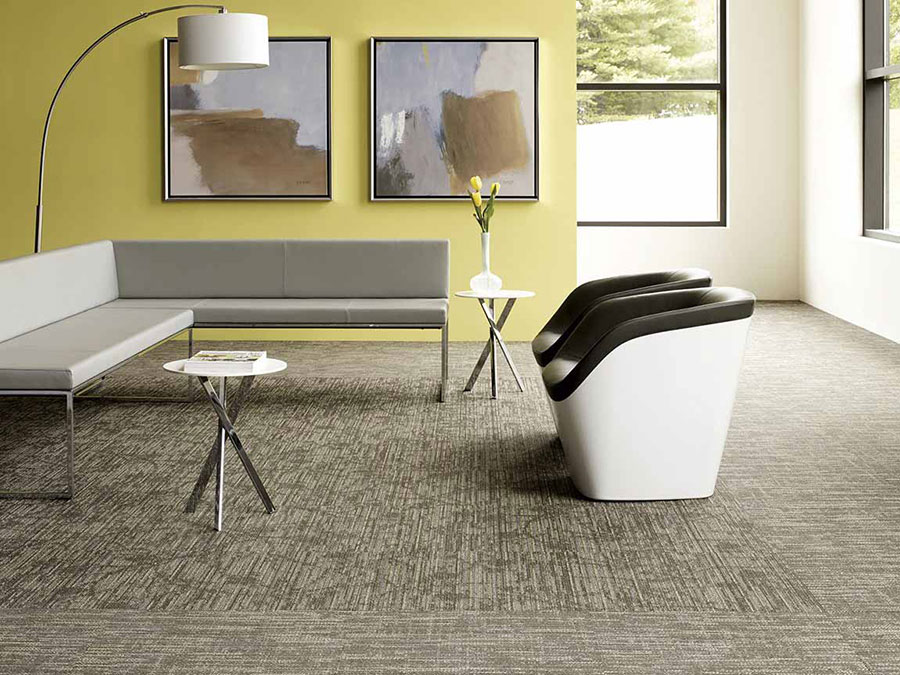 Earthy Clay
Warm yet vivid, clay tones like caramel or terra cotta make any room feel more inviting and more exciting. Clay tones also make the perfect design complement for a rustic, Tuscan, or country-inspired interior.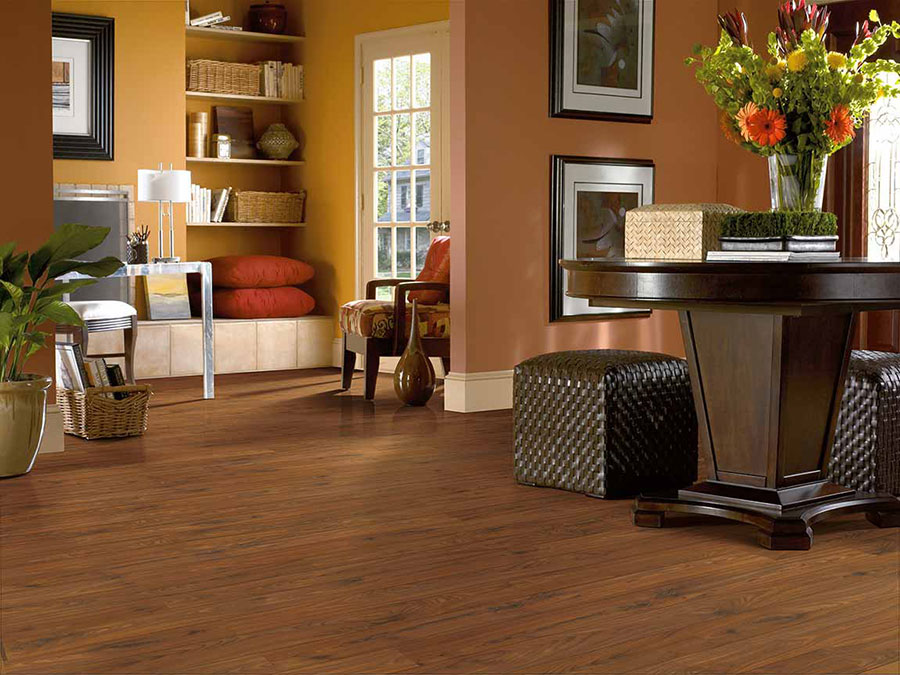 What Interior Paint Trends Are on the Rise?
Dark greens, mustards, and clay tones are definitely "in" right now, but they aren't the only color trends to pay attention to in 2019. Here are two more colors that are forecasted to be rising stars of the design world this year.
Mushroom Browns
Mushroom browns are a throwback to the design culture of the 1970s — which just happens to be all the rage right now. These soft, muted browns pair pleasantly with almost every other color, making them a breeze to incorporate into your home.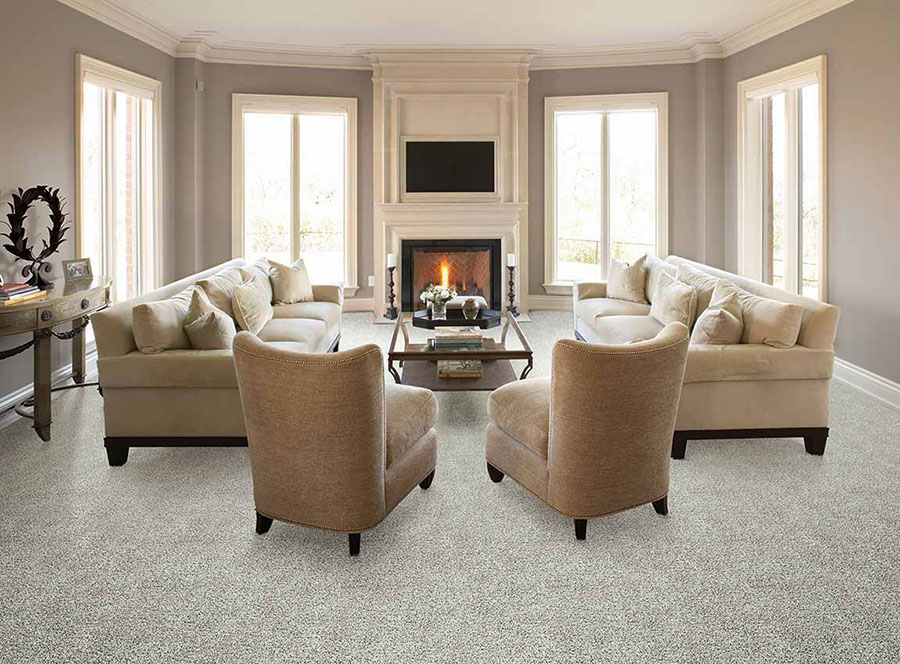 Misty Greys
Greys have stolen the spotlight in recent years. Now, let us introduce you to the newest shade: "Mist." Soft and subtle as the name suggests, Mist Grey is a classy, elegant twist on neutral wall color staples like eggshell and off-white.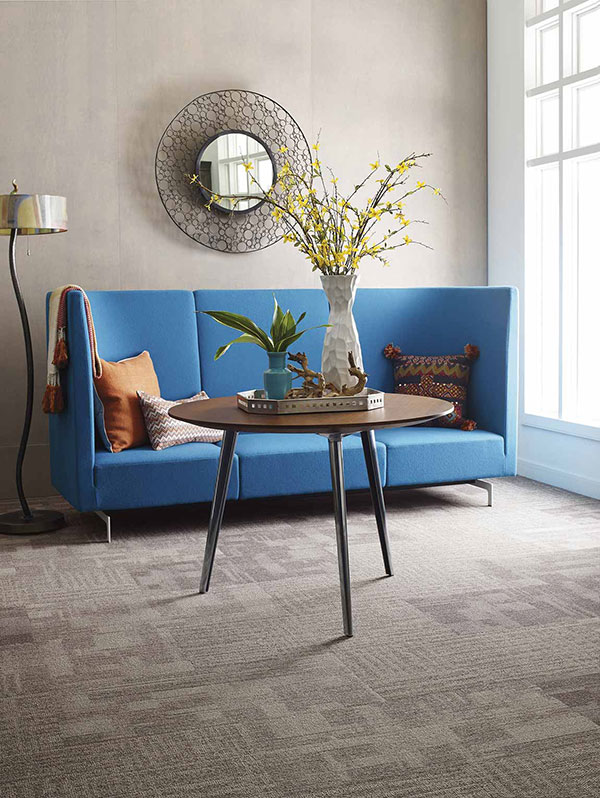 Compare Popular Interior Paint Colors with My Design Finder
As the saying goes, a picture is worth a thousand words, especially when it comes to something as visual as home design. Now that you've read about trending paint colors, see them in action with My Design Finder. From coastal kitchens to barn-style bathrooms, My Design Finder shows you thousands of real-life design examples, with each search customized to match your sense of style. That's just one of the ways our team makes redesigning your home easier.
Need more guidance on finding the right color scheme for your home? Ask the experts at Flooring America how we can help. With convenient locations across the U.S., you're never far from friendly advice and a huge selection of quality products. Contact us online today, or call (866) 439-6743 to get started.
Continue Reading