Gorgeous Tile Flooring from High-Quality Brands
Tile Flooring in Ann Arbor, MI
Enjoy stunning colors and elegance in any room with tile flooring Ann Arbor Carpet Flooring America. Adding a tile floor to virtually any room is a great way to increase your home's real estate value, refresh the appearance of an outdated room, or improve a family member's allergy and asthma symptoms. With tile flooring installation by our flooring specialists, you're able to enjoy high-quality, durable tile floors for many years to come.
From its hypoallergenic nature to its easy maintenance requirements, tile flooring is a great option for any home. Whether you're going for a classic or modern look, there's a tile style to suit your tastes. We carry tiles in a full range of colors and materials by popular manufacturers like Floorcraft™ and Emser Tile™. These reliable and trustworthy brands are sure to provide you with years of aesthetic and functional value. With so many options to choose from, you are sure to find the floors that suit your needs in looks, performance, and price.
Our current inventory of tile brands includes all of the following stylish manufacturers:
Floorcraft
Emser Tile
Marazzi
American Olean
Shaw Floors
Spotlight Values
Mohawk
Daltile
Happy Floors

Choose a Durable and Hypoallergenic Tile Floor
In your busy and exciting life, it's important to have a durable tile floor that can stand up to high levels of foot traffic, dropped items, and exposure to moisture. Ceramic and porcelain tiles are highly water-resistant, making them ideal for rooms like the kitchen and bathroom, which are frequently exposed to spills, standing water, and humidity. Many people also choose to use tile in their home's entryway and even outdoor areas like swimming pools and patios.
Ceramic tile is a durable, heat, and cold-resistant material, making it perfect to use outdoors. If you have an outdoor patio area or swimming pool, using water-resistant ceramic tile for your flooring is a great option because it is water-resistant and doesn't crack, warp, or shrink when exposed to extreme temperatures. This makes it an ideal material to use outdoors. Its durability means you're able to use patio furniture on it without having to worry about chips or cracks.
Your Home Guide to Tile Selections
Ceramic
Crafted from a heating and cooling process using kiln-fired clay, ceramic is one of the most popular selections for both flooring and backsplash designs. While most ceramics offer a glossy, glazed finish, non-glaze tile flooring that contains a pattern prevents slippage underfoot. While most ceramic flooring tiles can be used as a backsplash, tile that has intentionally been created for walls cannot typically be placed on the floor.
Porcelain
Porcelain is created using the same method as ceramic, though its kiln-fired clay requires a longer heating period. As a result, the finish is denser and more durable than its ceramic equivalent. Additionally, finer clays are typically used in the composition of this beautiful tile product.
Slate & Stone
Stone is one of the best options for outdoor flooring as it can withstand intensive natural elements. Slate has an earthy, rich appearance, while travertine, which is made of limestone, has a paler appearance. Both types can be used for interior flooring as well.
Wood Look Tile
Wood-look tile is an increasingly popular, contemporary fashion that is created with either ceramic or porcelain tile materials. Customers can now enjoy any botanical wood-species design with the stability and moisture-resistance of a tile floor. Never fear warping, staining, or damage that can occur in hardwood when you invest in these stunning tile selections. From birch to oak and mahogany shades, wood-look tile is a great hardwood alternative for bathrooms, kitchens, basements, or any room in the house.
Tile Flooring Installation for Easy Maintenance
Tile flooring installation requires precision and special equipment, so make sure you leave it to our skilled and experienced professionals. After exploring our selection of colors and styles, choose a tile that matches your taste and budget. Schedule an installation by our team of skilled professionals and ensure that your investment is protected. We make sure your beautiful new flooring is installed straight and level, properly sealed for maximum moisture resistance, and structurally sound. All of our products are backed by an Ultimate Confidence Guarantee, for the lifetime warranty of your new floor.
For homeowners who don't have much time to dedicate to floor maintenance, tile flooring is a great option. It doesn't require intensive steam cleaning or vacuuming and can be cleaned with a mild detergent and cleaning materials like cleaning rags or chamois towels.
Our selection of ceramic, porcelain, and stone tile offers you a wealth of choices when it comes to the design and appearance of your rooms. Modern technology allows manufacturers to create a variety of tile designs, colors, and textures. From a natural stone look to wood-look tiles, we carry a full range of styles suitable for any room. Enjoy the beauty, versatility, and easy maintenance of tile floors that look and function well in any room inside or outside of your home.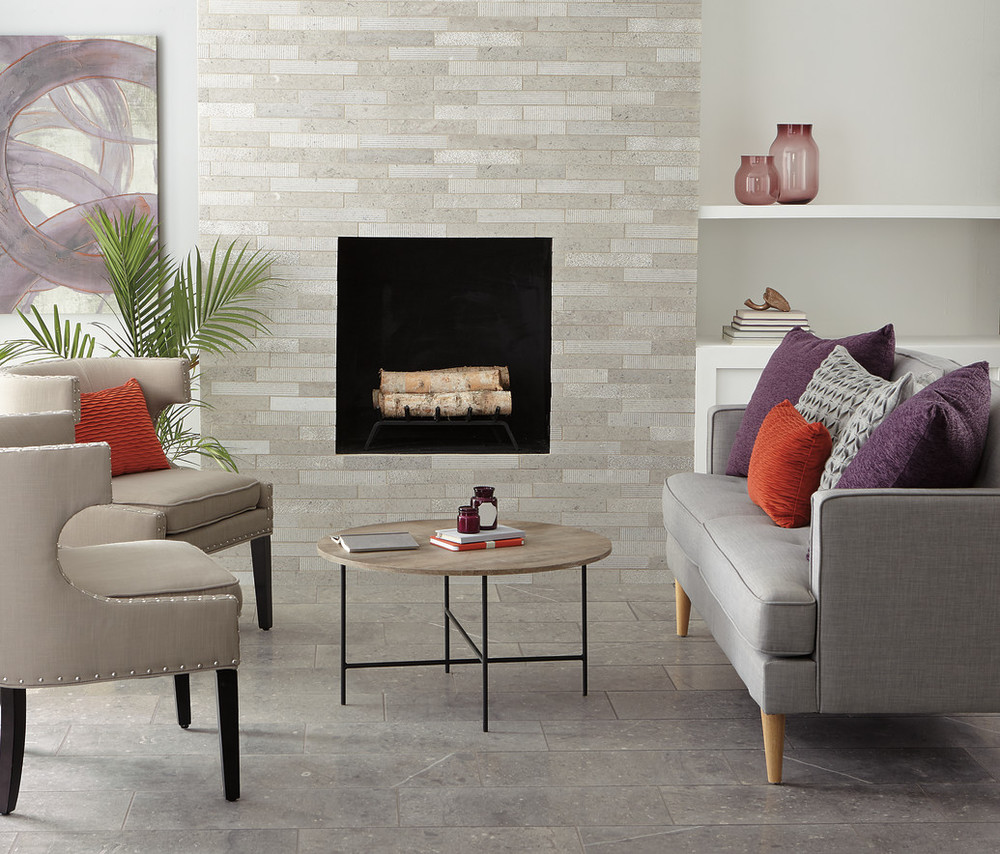 Benefits of Installing Tile Floors
Tile floors are a highly sought-after feature in many homes, both those for rent and those for sale. Stone tile can greatly increase the value and attractiveness of a property. When you're ready to enhance the beauty and functionality of your home or business, choose stone tile floors for their many benefits including:
Sophisticated Appearance
Easy to Maintain and Clean
Add Value to the Property
Durable and Long-Lasting
Eco-Friendly Material
Each Tile is Beautiful and Unique
Hygienic Surface Doesn't Hold Dust or Pet Hair
Conducts Heat Well for Underfloor Heating Systems
Contact us when you're ready to invest in new tile flooring. We proudly serve the Ann Arbor, Ypsilanti, Plymouth, Brighton, and Jackson, Michigan, areas.