Hardwood Flooring in Ann Arbor, MI
Are you ready to update the worn-out flooring in your home with a timeless flooring option that will never go out of style? Check out our collection of beautiful hardwood flooring here at Ann Arbor Carpets Flooring America. We have everything from contemporary white oak to traditional red maple planks.
Interested in hardwood floors but not sure where to start? Our flooring specialists are eager to help you begin your journey and will carefully guide you every step of the way—from selection through final installation. Together, we'll discover which hardwood style best suits your home's design and your household's lifestyle. Visit our Ann Arbor, Michigan, showroom today to get started!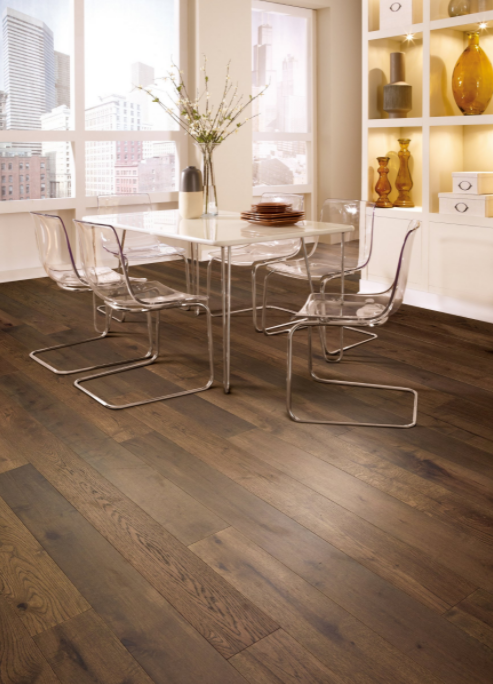 Types of Wood Flooring: Solid and Engineered Hardwood
Not only do you get to choose what style and size of hardwood planks you want to install in your home, but these days you get to choose what type of hardwood flooring best fits your lifestyle. Hardwood flooring can either be composed of solid hardwood throughout or manufactured in cross-cut plank layers of engineered wood.
Solid wood floors are wood planks of various cuts from your favorite wood species. These timeless floors are extremely durable and can last a lifetime with proper care. Best of all, you can switch up the look of your solid wood floors with a simple refinishing.
Engineered wood floors have a top layer of solid wood, making it almost impossible to distinguish from your favorite solid hardwood species. Its sturdy core of cross-cut planks provides the added benefit of stability, with less contracting and expanding due to changes in moisture levels. This makes engineered hardwood the perfect choice for high-traffic areas that are more likely to get moisture, such as kitchens and bathrooms. Additionally, there is less worry of warping or cracking due to Ann Arbor's seasonal changes.
Benefits of Hardwood Floors for Your Michigan Home
At Ann Arbor Carpets Flooring America, we want each of our Michigan customers to find the ideal hardwood floors that match both your lifestyle and design aspirations. That's why we make a point to carry trustworthy hardwood flooring brands that offer maximum performance and stunning styles. Hardwood flooring brings many advantages, including the following:
Increases the overall value of your property.
Simple to maintain with a regular cleaning regimen.
Can refinish solid wood flooring over its lifespan.
Engineered wood boasts reliable moisture resistance.
Brings a classic appeal to upgrade your interior design.
Durable and long-lasting floors in a variety of species, cuts, colors, patterns, and sizes.
The Ease of Hardwood Maintenance
Hardwood is a lifelong flooring choice, making it a sustainable option for households, and now hardwood can also be installed in any room of the home. Wood flooring is easier to keep clean than you might think. All it takes to maintain your wood floors is the following easy steps:
Frequently sweep or vacuum to remove dirt and debris.
Wipe up spills promptly with a damp cloth.
For heavier messes, dry mop with a wood floor cleaning solution.
Always consult your floor's warranty guide before using any chemical cleaning agents on your hardwood floors to ensure that your cleaning solutions are safe on your stains and finishes.
Hardwood Flooring Installations with Our Local Experts
Hardwood flooring installation is an art, and with our team of expert hardwood flooring installers, you'll enjoy lasting beauty. Our specialists come equipped with industry-grade equipment and all the best resources to ensure an efficient and quick hardwood floor installation.
The best part of an installation with our team is the Ultimate Confidence Guarantee, which backs all flooring installations. Should you for any reason feel unhappy with your newly installed hardwood floors, just reach out to us within 30 days of completion. We will then replace the unsatisfactory planks with a comparable product for free!
Our main goal is to help you achieve your design dreams, so with thorough craftsmanship, our professional installation contractors are ready to carry your project beyond the finish line.
Contact us today to begin your search for new hardwood floors! We proudly serve Ann Arbor, Ypsilanti, Plymouth, Brighton, Jackson, Michigan, and the surrounding Washtenaw County.