Laminate Flooring in Ann Arbor, MI
Are you looking to update your old, scratched floors with stunning and durable laminate flooring? Look no further than Ann Arbor Flooring America, where you'll find a gorgeous selection of quality laminate products that last. As a locally owned and operated Flooring America store, we bring our Ann Arbor customers budget-friendly flooring with personalized service from our knowledgeable sales professionals. Our flooring experts will not only help you select the best choice for your home or business but also provide quality laminate flooring installation solutions to optimize the beauty and longevity of your new floors. Enjoy a cost-effective way to redesign your home or business with laminate flooring at our Ann Arbor, Michigan, showroom. Visit us today!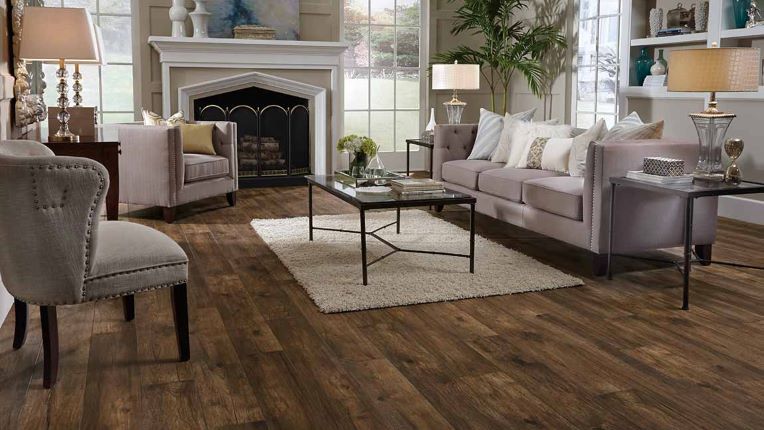 Best Types of Laminate Flooring For Your Home
Laminate flooring is a versatile flooring option for any room in your home, as it is designed to look and feel like its real natural counterparts. At Ann Arbor Carpets Flooring America, our laminate designs are crafted to resemble both dark and light hues of natural wood and stone materials.
From laminate wood flooring to laminate tile, browse our broad selection of laminate flooring options to find the perfect style to suit your taste. Learn about the types of laminate we carry at our local Ann Arbor flooring store:
Wood-Look Laminate Flooring
Wood-look laminate flooring mimics everything from glossy oak to rustic knotted hardwoods. If you desire a wood look in the kitchen but need oops-proof, waterproof protection, laminate's layered composition delivers maximum performance with an authentic hardwood appearance and texture. Some of our most popular wood-look laminate styles include:
Ash Grove Oak
Juno Oak
Valley Vista
Rend Lake Oak
Mountain Lane Oak
Yarlington Maple
Tile & Stone Look Laminate Flooring
Natural stone, ceramic, and porcelain tile bring an air of elegance to any room in your home. If you want a tile look, but at an affordable price, choose laminate tile flooring. Additionally, laminate tile is much warmer underfoot during cold Michigan winters. From a charming slate to an elegant marble, you can get the expensive look of tile without breaking the bank!
Why Choose Laminate Flooring?
Our friendly team at Ann Arbor Carpets Flooring America has one mission in mind—to bring each customer their perfect flooring solution with laminate's versatile benefits. Whatever your lifestyle and needs, we offer quality products from industry-leading brands.
Our Ann Arbor customers choose laminate floors for the plethora of performance advantages and incredibly realistic style. In addition to its low maintenance and ease of care, laminate is scratch, moisture, stain, and fade resistant. These hypoallergenic, pet-friendly floors make the best choice for any family with an active household. But that's not all, discover all the benefits of choosing laminate for your Michigan home:
Comfortable, resilient feeling underfoot
Easy on your budget to maximize value
Extremely durable & long-lasting
Resists common household spills and scratching with ease
Matches any interior design with hardwood or natural stone looks
Ensure a low-maintenance household for busy lifestyles
Simple installation process so you can begin living on your beautiful new floors almost immediately.
Boosts insulation so you can spend less on energy bills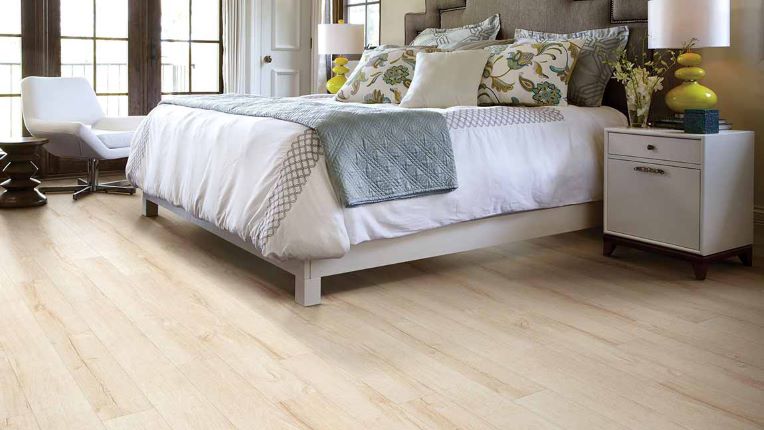 Laminate Flooring FAQ's
Here are some of our customers' most commonly asked questions about laminate flooring:
Is Laminate Flooring Waterproof?
Most laminate is water resistant, while not completely waterproof throughout the plank. This means it resists spills and topical water, but could cause damage if water soaks through to the wood core. There are some waterproof laminate products available or waterproof vinyl floors.
How to Care For Laminate Floors?
Sweep regularly, wipe away spills, wet mop occasionally—that's it! Always avoid using any harsh chemicals as they may damage the protective wear layer.
Where Can Laminate Flooring Be Installed?
Laminate is crafted for easy installation and lasting durability in any room. Laminate floors are a popular choice for living rooms, kitchens, bathrooms, bedrooms, hallways, laundry rooms, basements, and more!
How Much Does Laminate Flooring Cost?
Laminate is considered a budget-friendly wood or tile alternative, with costs varying depending on product style and brand. Browse our laminate selection online or in-store to view specific product prices.
Professional Laminate Flooring Installation
Due to the latest developments in flooring technology, laminate flooring installation is a snap. Laminate floors can be installed over almost any subfloor with efficient speed and accuracy thanks to the advanced click-lock system. Our installers will assemble your new flooring easily with this simple tongue-and-groove process, giving you the confidence of a seamless match without the delay and hassle of custom fitting. This quick method ensures a smooth appearance and eliminates the risk of warping or reshaping your floors.
Our laminate flooring installation professionals have extensive experience in the industry, which has given them expertise that only comes with years of service. We know which techniques to use for maximum resilience and durability of your floors – making sure the beauty of your floors lasts for a long time. Here at Ann Arbor Flooring America, we back each installation with our Adore Your Floor Guarantee. If you are not entirely pleased with your new laminate floor, we will replace it altogether free of charge.
Contact us today to learn more about laminate flooring! We proudly serve Ann Arbor, Ypsilanti, Plymouth, Brighton, Jackson, Michigan, and the surrounding Washtenaw County.