Founded in 1968 by Jerry Mrozinski and Harold Peplau, Ann Arbor Carpets has been a trusted local resource for homeowners and businesses for more than 55 years. After three years at the original N. Main Street location, Ann Arbor Carpets moved to its current location on State Circle. Our local shop continued to evolve as it joined the Flooring America family and became formally known as Ann Arbor Carpets-Flooring America.
We are proud to offer a stunning collection of luxury vinyl, laminate, carpeting, area rugs, hardwood, and tile at affordable prices thanks to our nationwide 500-store buying power. With several generations carrying the Ann Arbor Carpet name into the future, family values and commitment to quality are still at the forefront of our practice. Nearly 30 years ago, Jerry brought in his daughter, Jenny, to help run the business. Today, she now owns the business.
Ann Arbor Carpets-Flooring America offers every kind of covering for your floor, from area rugs to ceramic tile, carpet, laminate, hardwood, and LVT, with a showroom containing thousands of samples that customers can see and touch. Plus, our clients can take advantage of free financing, with some of the industry's best warranties on products and installation services.
Our store is renowned for providing a truly remarkable level of customer service. Our mission is for you to enjoy the flooring upgrade experience and to achieve all your design goals within budget. With decades of flooring experience, Jerry and Jenny are the area's go-to professionals. Our product inventory includes brands and materials that are long-lasting, water-resistant, and built to last for years to come.
Ann Arbor Carpets-Flooring America - 55 years and still going strong!
Flooring in Ann Arbor, MI
Selecting the ideal flooring for your upcoming project doesn't have to be a daunting task. With our wide selection, you are sure to find the ideal floor for your situation, your taste, and your budget. Why go from store to store trying to find the right flooring when one stop at our showroom gives you all you need? When you are looking for new floors, save time and frustration by making us your first stop.
Our selection is sure to wow you, and our outstanding customer service makes shopping for new floors a breeze. Allow our knowledgeable, in-store associates to make your shopping experience both easy and enjoyable. You can depend on us to answer your questions about the characteristics of the materials and products available, ensuring you pick the perfect option for a single room or even your entire home. Our complete line of flooring options includes:
Our store is the perfect combination of incredible selection and supportive customer service. Buying a new floor should be fun, not frustrating. Our store eliminates frustration and makes it enjoyable to select a new floor for your home.

We Offer the Following Services:
Product Selection, Free Custom Measurements, Residential Flooring Installation, Commercial Flooring Installation, In-Store Rug Binding, Special Financing Plans, Shop at Home, and Heated Floor Installation.
Additional Products
Wall Tile
Heated Floor Systems
Carpet Remnants
Carpet Padding
Carpet Cleaning Products
Contact us today to get started with your flooring upgrade! We proudly serve Ann Arbor, Plymouth, and Jackson, MI, among surrounding communities.
---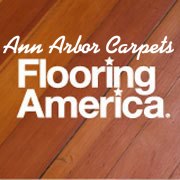 Shop With Confidence

Our store has earned 5 STAR status for our commitment to excellence and unmatched customer service. We invite you to come experience what our customers already know. You can expect more without paying more.