Enjoy a Familiar Look for Less with Wood-Look Tile in Ann Arbor, MI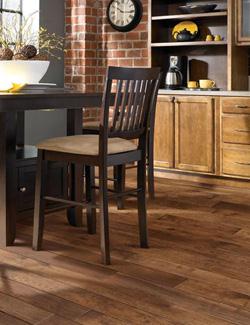 Few home renovations possess as much transformative power as opting for new flooring. Beloved by homeowners of nearly all tastes and preferences, many find it hard to resist the rustic appeal of hardwood flooring. However, there are areas of the home, such as moisture-prone spaces, that aren't well-suited for wood floors. Fortunately, shoppers at Ann Arbor Flooring America will have no trouble finding impressive wood-look tile in Ann Arbor, MI.
At our expansive flooring showroom, we proudly carry a vast assortment of wood-look tile flooring selections and other look-alike choices that offer remarkable appeal and exceptional longevity. Our high-quality flooring choices are designed for homeowners looking to augment unconventional spaces with the look of real wood flooring, especially in space where wood floor isn't ideal. Whatever your design vision, you'll surely find excellent vinyl flooring that looks like wood at a price that you'll love when you step through our doors.


Augment Unconventional Spaces with the Look of Real Hardwood
We proudly showcase may different premium look-alike flooring options in our expansive showroom. Our inventory includes:
Ceramic Wood Tile
Porcelain Wood Tile
Wood Plank Ceramic Tile
Wood Plank Porcelain Tile
Regardless of your material preference, you are sure to find an excellent selection that will meet your every need. Our look-alike flooring choices offer a desirable look at just a fraction of their genuine counterparts.


Wood-Look Floors Offer Exceptional Resilience
Thanks to the resilient nature of look-alike floors, even moisture-prone areas of the home that normally wouldn't be an ideal place for hardwood floors can emulate an instantly recognizable look. The moisture-resistant nature and overall durability of our look-alike floors also make them a great choice for homes with pets. When you're looking for a flooring choice that works well with pets, wood-look tile flooring is an ideal choice.
Do you know which of our wood-look flooring choices would best suit your project? Let our dedicated flooring specialists help you find a selection that's equally attractive and practical. Simply share your design aspirations with our experienced sales associates, and we'll gladly help you find a choice that's sure to meet your aesthetic and functional needs. Regardless of what you prefer, you'll surely come away with a new flooring surface that you can be proud of for years to come.



Contact our specialists to learn more about our look-alike tiling flooring choices. We proudly serve customers in Ann Arbor, Brighton, Jackson, Plymouth, and Ypsilanti, Michigan, and the surrounding areas.