Protective Waterproof Flooring in Ann Arbor, MI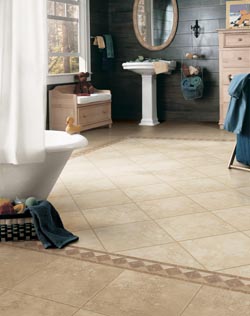 No matter how careful you are, your floors are bound to fall victim to occasional spills and accidents. Stress less about stains and water damage by choosing a waterproof or water-resistant surface from Ann Arbor Flooring America. We're your trusted source for waterproof flooring in Ann Arbor, MI.
At our showroom, you'll discover a vast selection of high-performance flooring designed with busy households in mind. From vinyl tile and plank to carpeting, there's a range of flooring products specially designed to protect your home from costly water damage and unsightly stains. Stop by our store today to see and feel these surfaces in person and pick out the perfect style for your renovation project.


Benefits Beyond Waterproofing
The core benefit of waterproof carpet and vinyl products is that they ward off water damage. Spilled liquids and other sources of moisture are two of the leading causes of flooring wear and tear. Moisture invites stains, and in the worse cases, can cultivate the growth of mildew and mold. With a waterproof or water-resistant surface from our store, you protect your investment in your home.
However, these surfaces also offer benefits beyond waterproofing. For example, they are designed to resist other types of wear and tear, such as dents and scrapes. Likewise, they are easy to maintain, only requiring basic cleaning; talk to our staff for detailed maintenance information for each product.
Furthermore, our waterproof vinyl and carpet surfaces come in a wide range of styles. Whether you enjoy following the latest trends or prefer to stick with timeless styles, we have something for you at our flooring store. If you are not sure what would look best in your room; simply ask our team members for a recommendation. We'll guide you towards your ideal flooring style based on your stylistic preferences and practical needs.


Installers Ready to Serve You
Installing a new floor is hard work. Instead of wasting your weekend straining your back and knees, leave it to our professionals. Our store's installers are trained to work with every product we sell, including our waterproof flooring. In addition, they are equipped with all the necessary tools to ensure picture-perfect results.
No matter what kind of flooring you choose for your rooms, you can rest assured that we'll do the job right. We work quickly while also making sure to follow all relevant warranty standards for installation. In no time at all, your new flooring will be ready to show off.



Contact us to learn more about our waterproof and water-resistant products, as well as our installation services. We proudly serve customers in Ann Arbor, Brighton, Jackson, Plymouth, and Ypsilanti, Michigan, as well as the surrounding areas.