Your Source for Waterproof Flooring in Ann Arbor, MI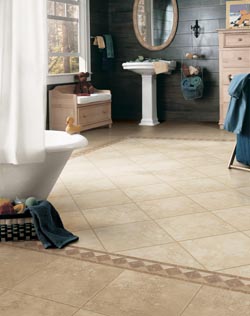 If you head an active household with little ones or pets that are always on the move, your floors are bound to fall victim to accidents and occasional spills. Having a flooring surface that can stand up strong to the challenges of everyday life is an invaluable comfort. When it's time to elevate the look and feel of your interior atmosphere with a floor that's equally attractive and functional, turn to our flooring store for waterproof flooring in Ann Arbor, MI.
At Ann Arbor Flooring America, shoppers will find a vast selection of high-performance flooring selections designed for active households. Our knowledgeable flooring specialists know how often families and lifestyles factor into many home remodeling efforts. That's why we're proud to offer customers a wide variety of waterproof flooring options that can be reused and reinstalled with ease should they get wet. From waterproof carpet to laminate floors, ambitious shoppers will have no trouble finding an abundance of water-resistant flooring when they browse our expansive inventory.


Enjoy the Benefits of Water-Resistant Floors
Waterproof floors from our collections offer a medley of benefits. Moisture and spilled liquids are two of the leading causes of flooring wear and tear. Moisture invites stains, and in the worse cases, can cultivate the growth of mildew and mold. Maintain the beauty and cleanliness of your interior space with ideal waterproof flooring. With a waterproof vinyl or water-resistant laminate flooring selection from our store, you'll have what you need to give your upcoming interior remodeling project a promising start.
Advances in modern manufacturing have made it possible for various flooring materials to take on water-resistant qualities. Our carpet, laminate, vinyl, and other water-resistant flooring options are sure to serve you well in nearly any application. Best of all, no matter what your material preference, you can add luxury to your home without worrying about the maintenance requirement of your new floors when you choose from our wide-spanning selection.


Take Advantage of Easy-to Clean Flooring
When you choose from our impressive assortment of our attractive, functional floors, you'll enjoy new floors capable of withstanding whatever life throws their way. Regardless of your choice, you can rest assured that you'll enjoy top-quality, easy-to-clean floors. Our waterproof carpet selections only require regular vacuuming while our water-resistant laminate flooring and vinyl floors can be cleaned quickly with a light mopping. When you browse our vast array of hard and soft-surface selections, you'll be sure to find the right choice for your project.



Contact our specialists to learn more about our medley of waterproof and water-resistant floors. We proudly serve customers in Ann Arbor, Brighton, Jackson, Plymouth, and Ypsilanti, Michigan, and the surrounding areas.