Luxury Vinyl Plank in Ann Arbor, MI
Finding The Perfect Luxury Vinyl Planks for Your Home
Elevate your home design with the look of real hardwood without the hassle and expense of hardwood maintenance by shopping our collection of stunning luxury vinyl planks here at Ann Arbor Carpets Flooring America. Our extensive showroom houses everything from rustic textured grains with contemporary smooth finishes to wide planks in coastal hues.
We proudly serve Ann Arbor, Ypsilanti, Plymouth, Brighton, and Jackson, Michigan, and the surrounding Washtenaw County. Stop by our Flooring America store today and let one of our flooring experts guide you through the industry's top brands to find the perfect luxury vinyl to match your design style and the durability needed for your active household.
We carry brands from top suppliers in the industry, including Downs Life H2O, Spotlight Values, and Galvanite.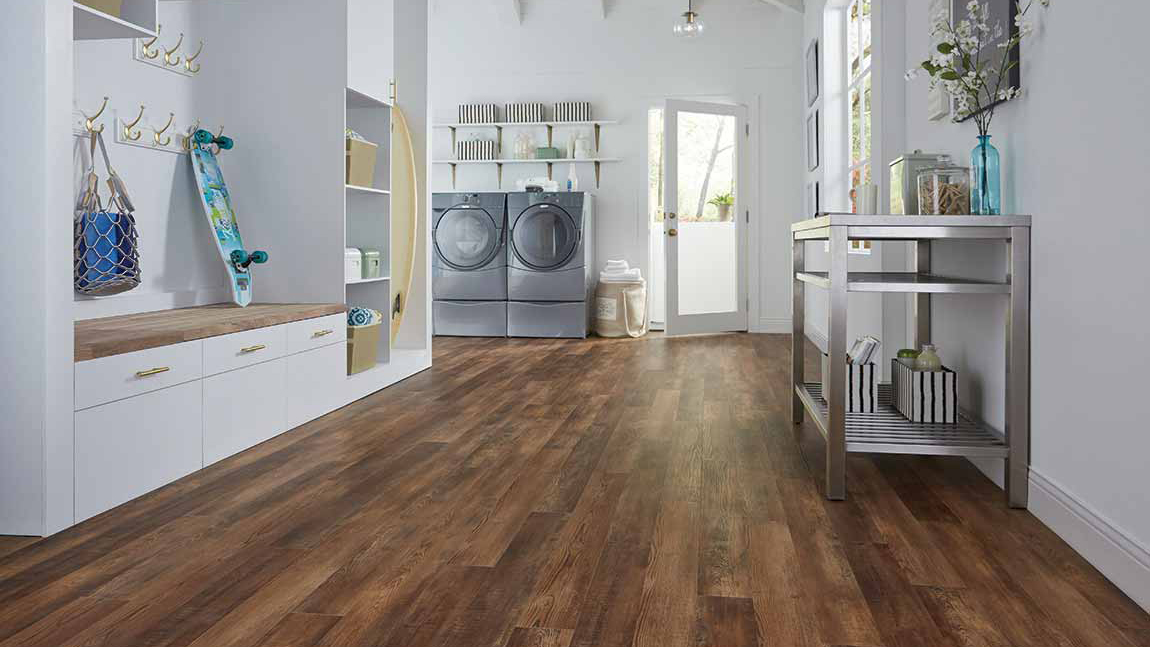 Why Should I Choose LVP?
The list of benefits to choosing luxury vinyl plank is endless, including the fact that it is a less expensive option than hardwood flooring installation. With the latest developments in flooring technology, you can now purchase LVP that looks exactly like its natural hardwood counterpart.
Not only do you get great-looking, comfortable floors when investing in LVP, but you also can rest assured knowing that they will stay in mint condition for years down the line. We carry incredibly durable brands that are both waterproof, stain-proof, and pet-proof, meaning that you can now install luxury vinyl plank in any room in your home, including the more moisture-prone areas.
Are Luxury Vinyl Planks Waterproof?
Our collection of luxury vinyl planks here at Ann Arbor Carpets Flooring America is 100% waterproof. Now, you can install hardwood-look floors in your bathroom, kitchens, and basements.
We carry exclusive brands such as Downs H2O Life which features the authentic look of real American oak but with a scratch and scuff-resistant veneer. Designed with a high wear layer and a special foam backing, this line of luxury vinyl planks is not just waterproof but has excellent sound absorption and thermal insulation.
The Ease of Keeping Luxury Vinyl Clean
One of the best excuses to install luxury vinyl plank throughout your home is the advantage of its hassle-free upkeep. Luxury vinyl planks are low-maintenance, only needing to be frequently swept, vacuumed, and dusted to stun with their brand new look for years to come.
Make sure to review the flooring warranty before using any cleaning chemicals on your LVP to ensure that you use the right supplies and techniques for cleaning. Although luxury vinyl floors are durable, when harsh chemicals are used, some can be scratched easily.
Expert Installation With Our Team
With our team of expert installers, we can have you living on your new floors in no time at all. Our professionals are trained to use the best tools and techniques the industry has to offer. Plus, many of our luxury vinyl planks are designed for a quick installation with their lock and click systems.
You can save money and time by hiring our team. While a simple mistake from an inexperienced installer can lead to years of damages down the road, with our Ultimate Confidence Guarantee, our installers will complete the job to the best of your satisfaction. If a mistake in craftmanship emerges, they can also supplement the floors for free.
Contact us today to begin your search for beautiful new luxury vinyl plank flooring.