Airy, light, and beautiful, interiors designed to mimic the ocean and coastal landscapes bring a calming atmosphere to any home. There's nothing quite like a trip to the beach full of fun and sunshine, so why not bring some of those colorful memories home with you in your interior design? Take your inspiration from the blue coastal waters and the warm sunshine to create the ultimate oasis that is both comfortable and soothing.
Coastal-inspired design is known for its laid-back, chic look. It allows you to take the ambiance of a beautiful seaside retreat and bring it into your home through colors, textures, patterns, and designs. Neutral colors form the basis for this style with the occasional pop of a vibrant hue. Use this design style to bring comfort to your home that will always remind you of your most cherished summer moments.
Cozy carpets are a staple for any home with their design versatility and built-in comfort. And, what better way to bring the peace and tranquility of coastal waters to your home than by installing the most comfortable type of flooring? Even adding an area rug to your living room or bedroom can accent your decor with luxurious texture or bold patterns. Carpets and area rugs are the coziest of flooring types, offering natural cushiness that brings a sense of serenity to your home.
What Is the Softest Carpet Pile?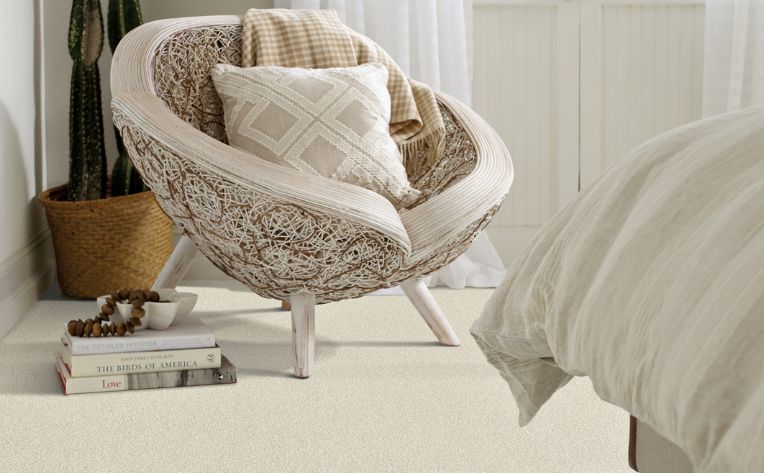 Underspin Plus in Gentle Touch by Tigressa
When you go on vacation to your favorite beach, you expect to be able to relax and have a good time. Why not bring that feeling home with you? The first step in creating a laid-back living space is to incorporate elements that offer comfort. You can do this by starting from the ground up and building a simple foundation. When you want to bring the sun-warmed sands into your space, consider starting with a beautiful new carpet. To create an informal, casual look with your carpet, you'll want to consider pile cut carpet in nylon, wool or polyester. You can do this by installing carpeting that offers a longer cut pile, such as a frieze carpet. Carpeting that is plush and textured can look as if it's emulating natural patterns like waves in the water or grooves in the sand, while also giving you that soft feeling to sink your feet into.
Coastal Area Rugs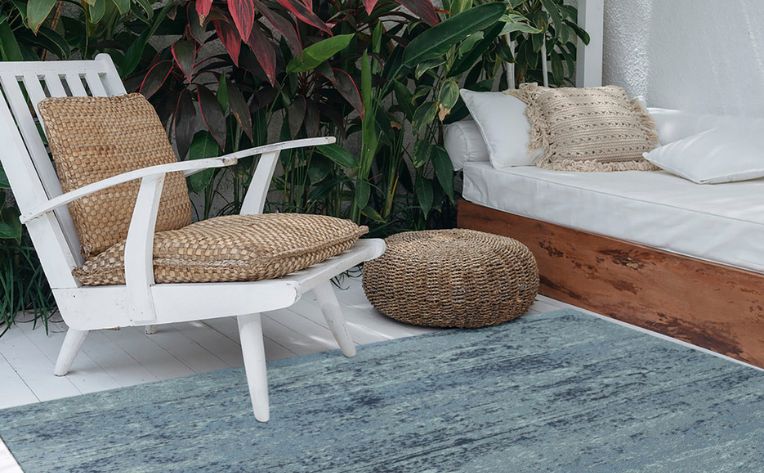 Santana Collection by Kaleen
Area rugs create another layer of color and texture in your home, and there are so many types to choose from! From colorful coastal rugs to accent runners and entryway rugs, you can't go wrong. Before selecting which area rug you want in your space, it is important to determine what size the rug should be. Consider the size of your space, the foot traffic in that space, and what type of activities will be taking place in the space where you're planning to install the area rug. Whether you're looking for an area rug for your bedroom, hallway, living room, or foyer, the selection is endless.
Infusing Coastal Blue and Golden Hues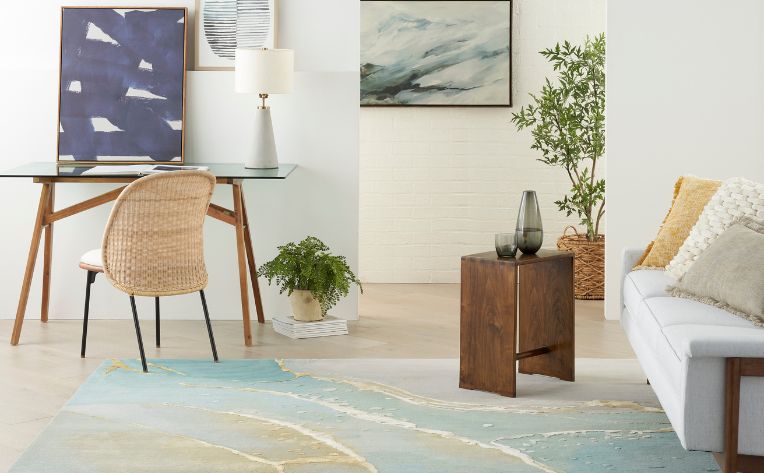 Prismatic Grey/Seafoam by Nourison
When you choose the right color carpet or area rug, you elevate the aesthetic of your whole space. When it comes to a coastal-themed color palette, choose calming hues inspired by sunny days spent at the shore so you can obtain that beachy feeling. Traditionally, soft beachy blues, deep sea navies, and warm sandy taupes have been used in many coastal designs.
If you are looking for a bolder approach, don't be afraid to add a pop of color. For example, if the color scheme in your home has mostly neutral colors, break them up by including a yellow or golden area rug in your space. This will add some color and brighten up your room! Other color choices that match the coastal theme are crisp white, seafoam green, coral pink, and turquoise blue. Regardless of your choice, the best color palette for beach-like flooring is typically light and calming with neutral tones and just a touch of darker hues.
Accenting with Patterns and Textures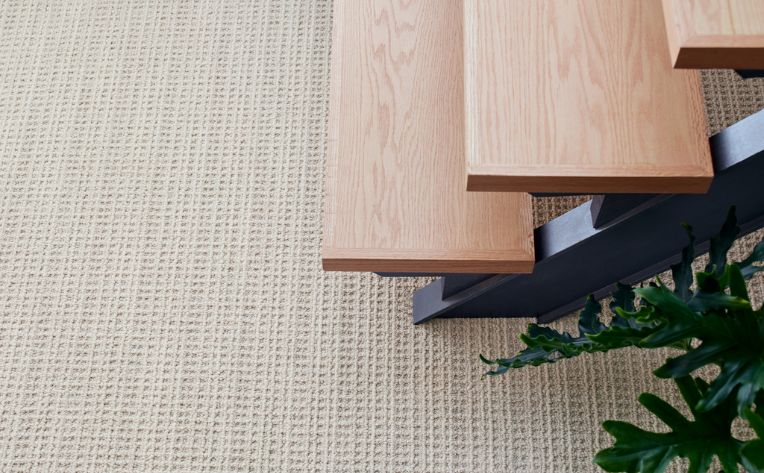 Moonlight in Reflection by Tigressa Cherish
Incorporating patterns and textures in your decorating scheme doesn't have to be intimidating. Generally, when layering patterns and textures, it is best to combine prints that are different colors or scales. Ideally, in most design spaces, the most prominent pattern in the room is typically an area rug that helps set the tone for the rest of the space and adds a layer of either a complementary or a contrasting pattern.
Because being at the beach is all about feeling the sand between your toes, it is important to consider the sensations you experience at the beach and try to apply them to the textures or patterns you add to your space. Bringing in bits of natural beauty can help you conceptualize a beach aesthetic in your home. For textures, consider woven area rugs made with natural fibers such as jute, sisal, cotton, and linen. Natural fibers will help create a beachier feel. For patterns, be sure to find textural ones that are visually appealing and bring your space to life. Nautical rugs with motifs like anchors, boats, waves, or palm fronds can be just the touch of texture your interior needs. If you're looking for something simpler or more subtle, consider stripes or chevron patterns in cheerful colors.